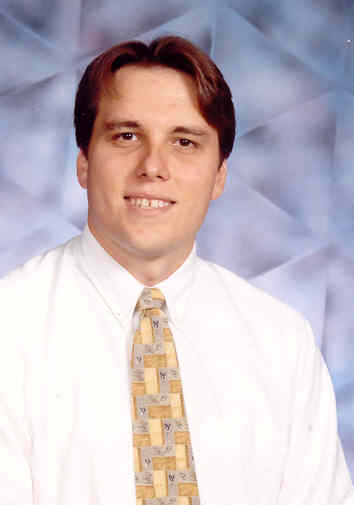 Meet Mr. Krygier:
Welcome to my personal page on our classroom website. I am so glad you dropped in for a visit. On this page you will get the opportunity to learn a little bit more about me. I first became interested in education while teaching study skills in Middlesex Township. I was conducting a research project for college at the time and entered a program which allowed me to enter the classroom and work with students. Before all of this happened, I graduated from Belvidere High School in 1990 after moving around a lot in New Jersey. I attended Rutgers University originally for Pharmacy. But I switched my major to Psychology after 2 1/2 years. I earned my Bachelor of Arts degree in 1995 and then attended Rutgers' Graduate School of Education for two years. Here I went through a joint program that allowed me to get my teaching cerficate, student-teach third grade in Sayreville at the Wilson School, and earn a Masters Degree in Early Childhood Education at the same time. (However, my education is not complete, because I still attend some classes at RTC)


My first teaching job was in Maplewood at a school called Immaculate Heart of Mary. I taught third grade for one year before moving on to Cedar Hill School. I continued to work with third graders until I was "promoted" to fifth grade in 2005. When I moved up to this new grade, I concentrated on social studies in our departmentalized grade. After three years, I switched to science- where I am today.


On a more personal note...I am married to a wonderful woman named RoseAnn (since 2001). She is a teacher, too. RoseAnn teaches Earth Science/Astronomy to freshmen in Jefferson Township High School. We have one son, named Garrett. He has his own website too (though I have not updated it in a while) If you would like to see this website, just click HERE. He was born in 2007. We have a chocolate lab dog named Nestle and two goldfish that Garrett named- Otto and Dorothy.


I like to spend my relaxing time gardening/landscaping our yard, watching sports, running my own sports website, going to our shorehouse near LBI, and hanging out with friends. I love reading historical books. My favorite foods are Pierogies, Fajitas, and Chinese. I listen to a lot of different bands including: Creed, Asia, Rush, Chicago, Foreigner, Styx, Def Leppard, Journey, Boston, Collective Soul, Bon Jovi, Eagles, Metallica, and Nickleback. My favorite color is forest green. On television, I like to watch House, Hell's Kitchen, COPS, Two and a Half Men, Forensic Shows, World War II documentaries, and sporting events.